BACK
12 foolproof ways to increase user engagement and app retention today
Tuesday, 14 September 2021
Are you a mobile app developer looking to increase user engagement?
Do you know how to create an app that will keep on giving?
Check out what strategies, features and addons the best app developers in the world use and increase mobile app engagement in a heartbeat!
Further Reading: How to create a mobile app?
Mobile app engagement: What it is and why it's so important
In the world of mobile apps, user engagement refers to how users interact with an app: How often do they use it? For how long? To what extent?
Mobile apps have their own sets of rules – there are specific steps to create an iOS app for example, you've got ASO instead of SEO, and different marketing strategies ultimately leading to one great result: monetization!
And how you monetize a mobile app? You increase app engagement of course!
So, how do you accomplish that?
Further Reading: Efficient ways to make money from your app!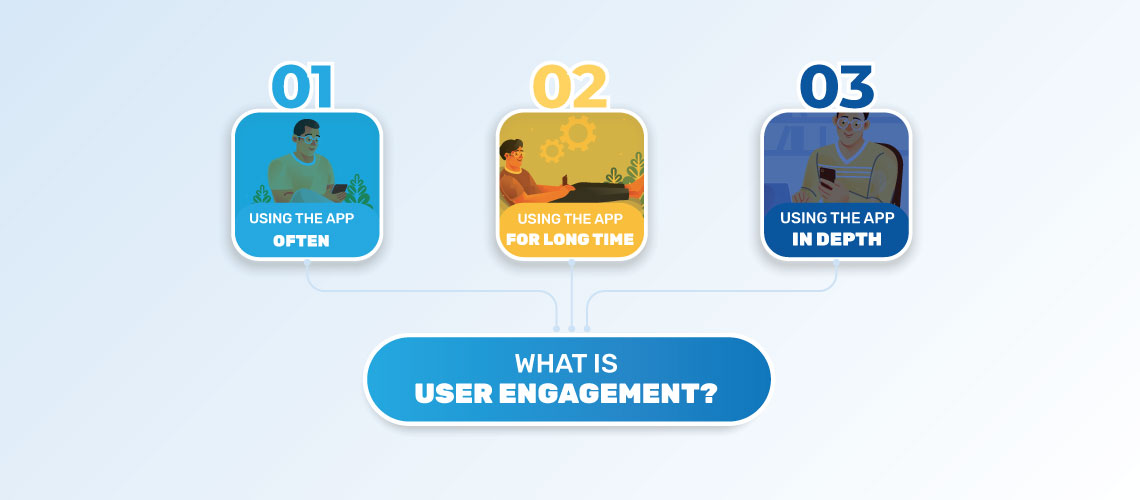 How to increase app retention: Top 3 nice-to-have features every app should have!
It's the simple things in life that matter!
You'll be amazed at the number of users interacting with their phones to check out the weather or set a reminder. Don't miss out on them!
Here are the top 3 addons your Android or iOS app should have:
Weather
Alarm
Extra language
Pretty simple, right?
By adding extra languages, you're on the right track to international success – why settle for users locally when you can reach a global audience?
Start with the small things, before taking any leaps of faith!
The best app retention strategies: How to constantly increase active users
Increasing user retention and app engagement is a difficult task.
According to Statista, 25% of users will abandon an app just after one use!
Even the best app developers struggle with app retention. Don't forget that this is a highly competitive market in which users have a lot of choices and their attention span is extremely limiting.
But, worry not!
Looksomething.com has gathered the absolute must-haves, the crème de la crème, the necessary addons every app should have in order to improve user engagement.
These are all proven, actionable strategies you can follow today, no matter your niche market.
Here we go:
Make social sharing easy by adding relevant buttons
This feature allows app users to share your app on several social networks and messengers, like Facebook, Twitter, and Messenger, or via email. It's an extremely useful addon, because it helps you utilize one magnificent fact: that 92% of users trust recommendations from other people more than brands!
Do the math: one simple share on Facebook can bring you far more users than a Google Ad ever could!
Offer incentives to existing users to share what you create, for example to earn points or discounts as part of your great gamification technique, and of course don't stop creating original and authentic content – the rest will come!
Make the creation of an app community your ultimate goal through in-app chats
Building an app community should be the ultimate goal of your efforts. Whether you've developed a game, an online store or even a radio application, at the end of the day you want one thing: people using your app!
In order to increase active users, you should create a… tribe! A group of people who share the same interests and want to talk to each other about said interests.
How to accomplish that? By incorporating a chat in your app!
Allow users to speak with you, and to each other, in order to discuss problems and ideas, and they'll never get rid of your app! They'll keep coming for more!
Fun fact: Working with several radio applications across the globe, we've seen that the need for meaningful communication between app users has spiked during the last couple of years, which proves what an important asset in-app communication can be. This is why Looksomething.com has decided to take things a step further by adding a record message addon, so app users can record and send their voice messages in an instant!
Make user engagement a piece of cake via push notifications
Push notifications are the holy grail of user engagement.
It's how you swoon users right back in, even when they least expect it. Don't go overboard, though – you want users to remember you, not get irritated by you!
By sending out push notifications, you'll be able to lower your app's churn rate, and see the results and ROI you've been dreaming of!
Don't forget: User engagement may first be born out of necessity but it is definitely sustained through great user experience!
Radio station app development: how to retain users on app
It's no secret that Looksomething.com has a soft spot for radio apps!
If you want to create your own radio station app and need help with the best features especially designed for your niche, here are our best recommendations:
Program and Producers
Recently Played Tracks
Cover Art and Now On Air
Charts & Billboards
Audio Recording
These are absolutely unique addons especially designed for iOS and Android radio apps that will send your user engagement off the roof!
If you're still struggling with how to increase user engagement on app get in touch with Looksomething.com today! We've got the experience and expertise to help your radio application reach new heights!