BACK
How to celebrate World Radio Day 2021 – Ideas & free resources
Wednesday, 03 February 2021
13th February.
All radio stations & enthusiasts out there, save the date!
Each year on 13th February, we celebrate UNESCO World Radio Day. Our beloved and precious radio has shaped the media landscape and the way we communicate over the years.
Radio promotes development, lifelong learning and cultural diversity, preserving local cultures & languages while contributing to global understanding.
So, it's important to remind everybody (including ourselves) of its great importance.
To help you out, we have prepared this article – an extensive guide full of free resources, marketing kits, how-to-celebrate ideas, quotes and weird facts! Use them as you wish, for FREE!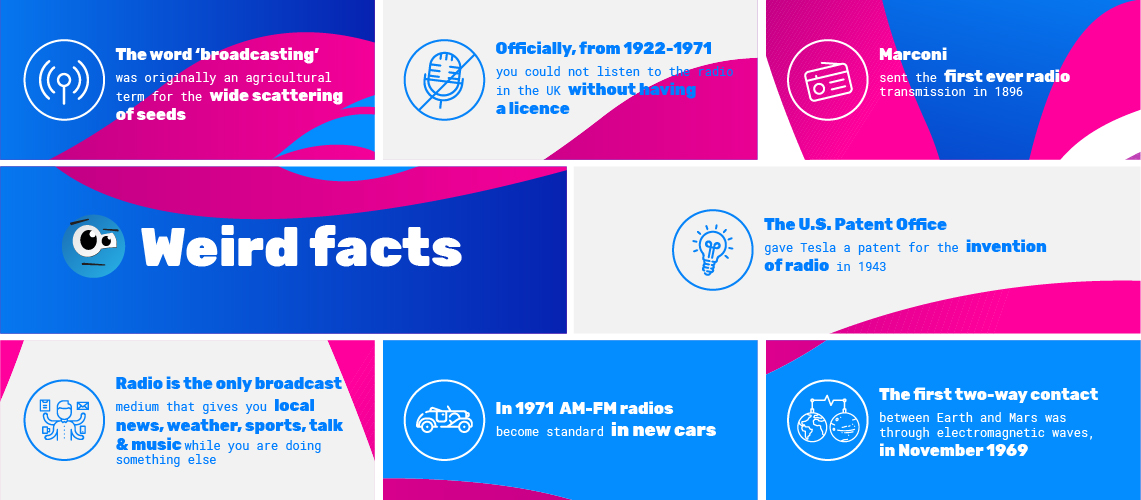 A brief history lesson about World Radio Day

September 2011 – Spanish Radio Academy proposed the 30th of October as a date for World Radio Day.
November 2011 - UNESCO proclaimed 13 February as World Radio Day, in honor of the day the United Nations radio was established in 1946.
February 2012
The first World Radio Day took place in London, as a seminar. Several practitioners, academics and software providers discussed how radio can reach remote and vulnerable communities.
Another public event commemorated World Radio day at the University of Pisa in Italy. The event focused on the cost and ease of radio as a source of information.
The third World Radio Day event for 2012 took place in Barcelona, Spain. The main panel discussion was "For a more global and competitive radio".
Lastly, Switzerland organized a Digital Radio Week, a series of technical events with a focus on open software-defined radio tools.
Objectives of World Radio Day
raise greater awareness about the importance of radio
encourage decision-makers to establish and provide access to information through radio
build up networking and international cooperation among broadcasters
Themes of World Radio Day 2021

For 2021, UNESCO calls on every radio station to participate in the celebration of the 10th World Radio Day and the anniversary of 110 years since the first broadcast.
In an attempt to enhance the value of this day, the theme «New World, New Radio» has been appointed.
For a good reason, if you'd ask us.
No matter the changes and technological developments, radio has managed to maintain its importance as a medium of awareness and information.
And it has also evolved.
As the world went through the Covid 19 pandemic, radio made it possible, to ensure continuity of learning, to fight against misinformation and to promote barrier gestures.
In order to celebrate World Radio Day for the 10th time since 2011, UNESCO has proposed three sub-themes: Evolution, Innovation, Connection.
How to celebrate World Radio Day?

Do you feel inspired by this year's theme and want to be a part of World Radio Day?
We've got great news for you!
Below, you can find some great ideas & resources that will help you plan and participate in this great event.
Talk about #EVOLUTION

It's a great time to reflect on your own development and that of your listening community.
What changed in your radio station, programmes and relations with your listeners?
Did the evolution of radio itself, the environment, and the socio-political or legislative context impact your station?
Have you embraced any new broadcasting channels, like Podcasts or mobile apps?
Need a radio app? Get your own mobile apps and increase your listeners!
Take action!
tell your listeners more about those critical moments during the past year
create a podcast episode highlighting various aspects of your development as a radio station over time e.g. technological innovation
display how your newsrooms, studios, listening communities and programs have adapted towards innovation
Talk about #INNOVATION

Radio has changed over time.
Digitization made it possible to listen to the radio from anywhere in the world, from smaller devices and smartphones to TV screens.
How did you manage to adapt to new technologies?
And what kind of innovative ways have you implemented to improve the experience of your listeners?
Take action!
broadcast a special program where you can share innovative radio messages that have left a mark on you or your listeners
imagine the future of radio and invite developers, academics, students & designers to a hackathon
organize a friendly brainstorming with your team with practical tips and innovate within your station
produce conversations with media representatives, politicians, artists, radio hosts or influencers and further explore the concept of "New World, New Radio"
Talk about #CONNECTION

Radio is multi-faced, in a good way. It can be used for entertainment, information, relaxation and education. No matter the preference, radio forges and maintains links.
How do you inspire and influence people?
Do you maintain engagement at high levels?
Take action!
share your ideas & concerns about the need to cope with the changes and let your listeners join the talk
invite your listeners to share their fondest listening memories of the past year – what left a mark on them?
create quizzes about the history of radio, did you know facts or your own story and anecdotes
challenge listeners to make their craziest predictions about the future of radio
engage with listeners on social media, on the street, audio recordings. What "New World, New Radio" means to them?
Tip: Don't forget to spread the word around using the hashtags #WorldRadioDay #NewWorldNewRadio
There are numerous ways to celebrate and it's up to you to pick the one that suits you better!
Weird facts about Radio

To further help you promote the day we have collected 5 weird facts about radio. Feel free to share them with your listeners in social media or in-air!
Did you know that…
Physicist Heinrich Hertz was the first person to prove that radio waves exist in late 1887?
The first radio messages were one-way and attempted to replace telegraph messages?
Marconi made the first successful transatlantic transmissions of radio waves in 1901 and 1902?
Today, there are almost 44.000 radio stations worldwide?
When cowboy/actor joined the military during WWII and stated that his profession was "rodeo", the recruiter mistakenly heard "radio". Slim had to spent the entire war as a radio operator!
Interesting Quotes about Radio

Hear, hear! More free resources for you, some inspiring quotes! Put them in good use by sharing them with your listeners!
When radio keeps silent, our ears shall never hear the real details! - Ernest Agyemang Yeboah
I think it quite likely that we are the only civilization within several hundred light-years; otherwise, we would have heard radio waves. - Stephen Hawking
Combining social media and local radio is also a chance to strengthen community participation, especially of marginalized groups. - DW Akademie
Exponential growth in access to the Internet, satellite television and radio, cell phones, and P.D.A.'s means that breaking news now reaches virtually every corner of the globe. - Dee Dee Myers
Radio on the Internet is yet another world-shrinking example of what communications analysts call the death of distance. - Tim Jones
Podcast listenership is some 20 times what people are listening to on the radio. - Scott Aukerman
I strongly encourage listening to the radio to hear something you haven't heard before. It's a very healthy thing to do. Unless you reload your iPods every couple of weeks, you're listening to and recycling the same music all of the time. - Alvin Lee
Along with several very popular Internet sites, talk radio has served as alternative media that gives listeners information that they otherwise would not hear. - Paul Weyrich
Radio is closer to a Tumblr, or a blog, or Twitter, than it is to television, I think. - Ira Glass
Radio is the theater of the mind; television is the theater of the mindless. - Steve Allen
Radio news is bearable. This is due to the fact that while the news is being broadcast, the disk jockey is not allowed to talk. - Fran Lebowitz
Radio is a medium of entertainment that permits millions of people to listen to the same joke at the same time, and yet remain lonesome. - T.S. Eliot
Free resources about World Radio Day

UNESCO has provided some ready-to-use resources for all radio stations that are ready to seize the day!
All material is copyright free and may be used to promote World Radio Day.
Sales are ON

Getting your new shiny apps on World Radio Day is a pretty awesome time, right?
Click on the image below and claim your discount now!

We hope you enjoy World Radio Day 2021 and help spread the word around!