BACK
7 Tactics to Make You a Successful Radio App Reseller
Wednesday, 28 December 2016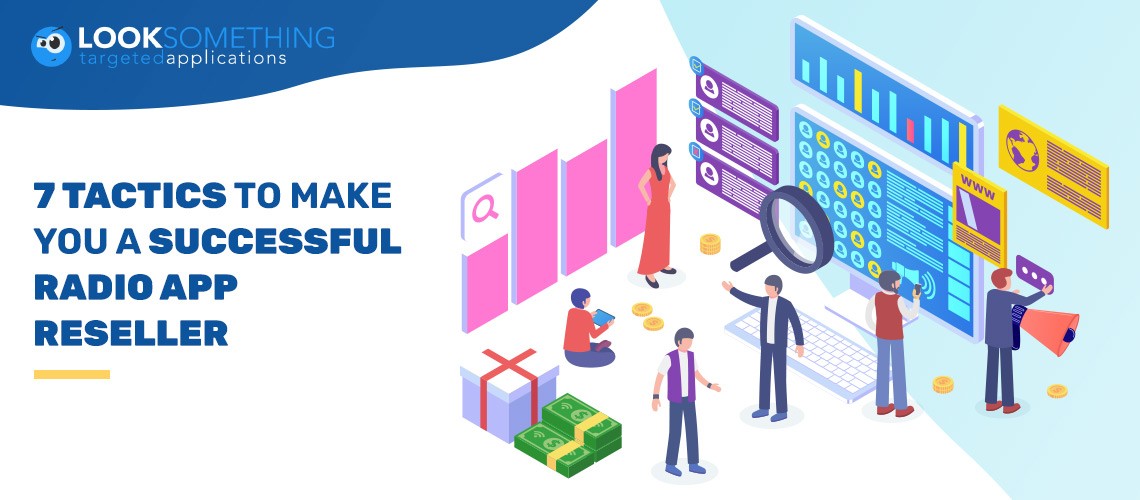 Are you skilled in selling products for others?
Do you enjoy purchasing goods or services with the intention of selling them rather than consuming or using them?
Then, reselling is great for you, if you are thinking of getting into one of the cheapest businesses to start from your own home.
However, the art of reselling is not always a simple path.
It requires constant motivation and "out-of-the-box" thinking to get more clients by your side.
Where you should start
Many have subscribed as resellers or partners in various programs, but few are those who excel in generating leads and getting new customers. Especially in the mobile radio app market, there is a large opportunity to sell.
Think about the Radio for a moment.
It can be found everywhere: from small villages to large cities, people want to listen to authentic and high-quality radio stations. So why not give it a try?
What you should do
If you are thinking of taking the leap, here are some tactics that we would suggest. Seven easy and applicable steps that will make you attract more clients as a Radio App Reseller:
1. Keep yourself up-to-date with the latest advancements of your vendors.
When you agree to your first deals, you have to stay close with all of your suppliers. Each vendor is keen to update their products often. They might inform you with direct messages or occasional newsletters, or they might not.
Hint: Take the initiative and follow them on social media, subscribe to their channels, read their news to stay up – to – date with any latest advancement.
2. Communicate often with your clients and provide any help they might need.
After you enter a partnership, you would have to find clients. But this is not a one-off deal! Your clients need you, just as you need them, so communication is the key.
Try to: Stay in touch and follow up every time something comes up. This way, you will build a stronger and more trustful relationship that will keep your current clients happy and bring you new ones too!
3. Don't rest on your success. Constantly find ways/channels to approach new audiences.
The road to success is never fixed nor the same for everyone. Those who tend to look for alternative methods to approach new audiences are the ones who benefit the most. Look for ways off the beaten path, read articles about channels that may differ, and don't be afraid to give them a try!
Try to: Get into social media groups where you could find possible clients or other users to ask for leads – this could turn into a win-win relationship so give it a go.
4. Talk to people about your product, word of mouth has a huge value nowadays.
We may live in a digital age, but that doesn't mean you can't find potential clients through other means, too. A friend or a satisfied customer would always be happy to spread the word for you.
Try to: Share news about your product on any occasion. Of course, under certain circumstances. Get people's attention and then give them clear sound bites that they can share.
5. Be competitive, find the unique selling point of the service and focus on that.
Stop getting lost in the crowd. Discover your advantages and what makes your product stand out. You have something special.
Try to: List the features and benefits that are unique about your product or service. Do a Google search and identify aspects of your product or service that your competitors cannot imitate. Time to put some work on it.
6. Do market research before you set your own price.
Again, before deciding what your price for the app will be, surf Google. You don't want to set the bar lower or higher than the competition.
Hint: If you sell internationally, try to set a standard price that is reasonable for most of the countries you focus on. But, also, to your needs.
And, most importantly:
7. If you are stuck on the same clients, don't panic! Try to make things differently until you see the desired result!
Looksomething offers a revolutionary reseller program for ambitious partners. It enables companies to incorporate a new product line along with their services, together with a significant boost to their sales.
A new opportunity that calls for Advertising agencies, Radio software businesses, and Radio streaming companies. Moreover, individuals who can benefit from their sales to radio stations and news agencies can apply.
Some of its benefits are:
Profit from the 1st sale
Profit on annual renewals
Profit on updates/upgrades
Free commercial price policy
100% White label
Upload to your personal Apple Developer and Google Play developer accounts, so that our brand name will not be visible at all!
Do you want to learn more?
Give your clients a heads up on how to promote their own radio mobile apps.
Have a look at our complete guide dedicated to mobile app promotion. Alternatively, you can email us at info@looksomething.com